Educational audiologist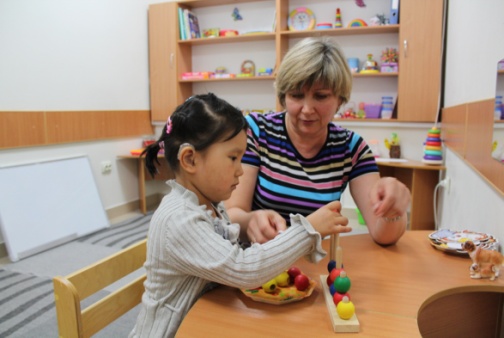 If you are undergoing examination at the audiology department of the SATR Center, we highly recommend making an initial appointment with our educational audiologist.
An educational audiologist is a hearing healthcare professional who works with children with hearing loss, working on children's rehabilitation using cochlear implants and hearing aids.
Educational audiology is a specialized section of pedagogics (formerly – correctional pedagogy or therapeutic pedagogy). The job of an educational audiologist is not so much in restoring hearing loss as fostering the social adaptation of a hearing-impaired child.
If an adult becomes hearing-impaired they still have the important advantage of being able to speak, read and write. They might be professionally active in a field where hearing loss, while being an additional challenge, is not disastrous. Most importantly an adult is capable of learning and gaining new skills in a focused manner that will help improve their life.
A child with hearing impairment, however, still has to explore the world around them. Such children require the help of an educational audiologist. An educational audiologist teaches a hearing-impaired child to talk, read and use the medium of speech in communicating with other people. After being fitted with a cochlear implant, the child still has to learn to hear. The untrained brain tends to perceive all surrounding sounds as continuous noise without differentiating between sounds of human speech, sprint-time drip sounds or road traffic. At this stage the help of an educational audiologist is critical for the child.
Our Center's highly qualified educational audiologist offers initial consultation which includes:
- Examining the child's hearing and speech using testing techniques;
- A detailed checkup of the functioning of a hearing aid or setting up of a cochlear implant processor;
- Rehabilitation class with children who have been fitted with hearing aids or cochlear implants;
- Teaching parents the skills needed to care for their special children, providing support in conducting family events;
- Conducting follow-up of hearing-impaired children and supporting children who go to special schools;
- Referring children to a psychological, medical and pedagogical consultation to decide on the appropriate education format
Appointments can be scheduled daily by calling +7 (727) 3944513, 3944623.